TERRAIN BIENNIAL 2019
TERRAIN BIENNIAL 2019 OPENS OCTOBER 4th THRU NOVEMBER 17th
It's time! The Terrain Biennial 2019 is underway in Chicagoland, around the country, and beyond—and we kicked things off with an epic block party!
With more than 250 artist projects and over 500 participants, the Terrain Biennial 2019 has grown significantly since its last incarnation!
The Terrain Biennial is unlike any other art festival. It takes place on lawns, in front yards, on porches, beneath awnings, and in windows. Residents partner with artists to bring striking, contemporary artwork into their communities. The Terrain Biennial challenges the way art is often confined to institutional spaces and class-specific audiences. Building on Chicago's rich tradition of apartment galleries and artist-run spaces, the Biennial brings contemporary art into the intimate terrain of the front yard, fostering dialogue between neighbors and providing access to new art for a wide range of people.
Focus The theme of this years Terrain Biennial is to take stock of the landscape that people are living in today. What is the terrain that we occupy? What is the topology of our moment? Artists and hosts have been asked to reflect upon the ways in which our environment changes us and how we are changing it.
Artist by location
423 w High Street : Jesse Meredith - Martin Monchicourt
Hale Memorial Church: Blair Jeffers - Brenda Gentry - Jaci Musec - Jessica Ball - Sarah Nesbit - John Seckler - 8HSD (Skyler Edwards - Nathaniel Lucas - Steven Hinrichsen) - LRAE - Keller Anderson - Duncan Katlack - Dan Ossandón - Bill Conger
Curator
Natalia Villanueva Linares, French Peruvian Artist and Curator lives and works between the US, France and Peru. She is the co-founder of Yaku + founder of the online magazine @ukayzine both based in Peoria IL.
Terrain Biennial 2019 locations Aurora, IL | Asheville, NC | Batavia, IL | Berwyn, IL | Chicago, IL | Cicero, IL | DeKalb, IL | Dhaka, Bangladesh | Evanston, IL | Forest Park, IL | Geneva, IL | Glen Ellyn, IL | Havana, Cuba | Homewood, IL | Iowa City, IA | La Grange, IL | Los Angeles, CA | London, United Kingdom | Lubbock, TX | Morris, IL | Newburgh, NY | New York, TX | Oakland, CA | Oak Park, IL | Pasadena, CA | Peoria, IL | Portland, ME | Riverside, IL | River Forest, IL | Santa Fe, NM | Springfield, IL | West Chicago, IL
History Terrain Exhibitions was founded in 2011 by the late artist, curator, and educator Sabina Ott at her home in Oak Park. The original format of the exhibition space existed as monthly installations in her front yard, from which grew the Terrain Biennial. In the summer of 2018 Sabina Ott passed away leaving behind a legacy of radical energy, caring magic, and deep community. Terrain Exhibitions is a 501c3 Not for Profit organization established in the State of Illinois. Terrain Exhibitions produces the Terrain Biennial, a public art event staged at locations worldwide. Terrain Exhibitions hosts the Terrain Residency in Springfield, Illinois working with our partners the Springfield Art Association and the Enos Park Residency Program.
FOR QUESTIONS PLEASE CONTACT: Director of the Terrain Biennial Richard Medina at richard@terrainexhibitions.org
(Flyer designed by John Seckler)
Hale Memorial Church Featured Site in International Terrain Exhibitions
INTERVIEW ON WCBU/NRP WITH JENN GORDON, EXECUTIVE DIRECTOR OF ARTS PARTNERS INTERVIEWS THE CURATOR NATALIA VILLANUEVA LINARES FOR OUT AND ABOUT
LISTEN THE INTERVIEW HERE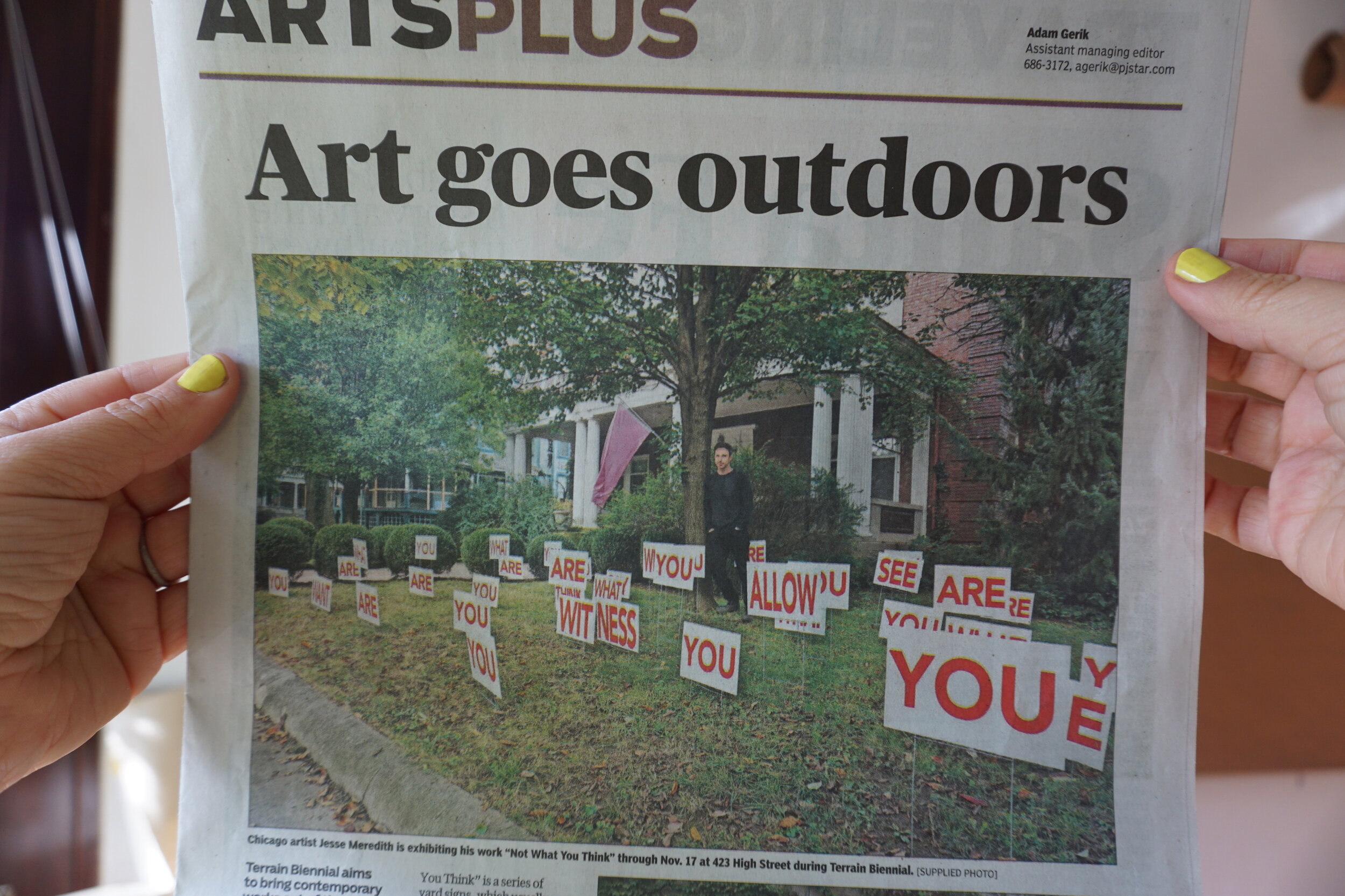 Article By Leslie Renken for the Journal Star Newspaper, mentioning the co- founder and curator of Yaku Natalia Villanueva Linares, introducing all the participating artists on Terrain Biennial presented by Yaku and Project 1612